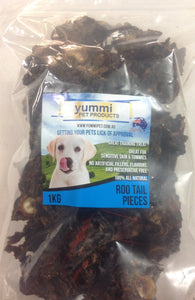 Yummi Pet Product Roo Tails
Regular price $39.99 $35.00 Sale
Yummi Pet Products Roo Tails are made of 100% natural ingredients. They're a great training treat and great for sensitive skin and tummies. Yummi Pet Treats are high-quality all-natural treats. Kangaroo treats are made of 100% dehydrated Kangaroo meat.
This product contains no preservatives, no artificial colours & no wheat. The Yummi Pet Products Roo Tails are a great way to treat your tail-wagging best friends.
These premium treats have a juicier flavour, with a strong meaty taste, your dog is bound to love their product. The Yummi Pet Products Roo Tails have a supple texture that keeps them busy gnawing for hours.
These products are invaluable for training your pup or dog to learn new tricks or to treat them behavioural traits that you'd like them to have. This product comes in a 1kg size, Yummi are committed to supplying the best quality natural pet treats at the best possible price.