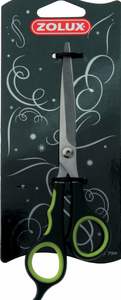 Zolux Straight Scissors
Regular price $14.95 Sale
These straight scissors are specially made for you to be able to cut out knots or shorten your dog's hair. This sturdy Zolux Straight Scissors is practical and comfortable to use as they were made to have a good grip! With its rounded-tip blades, the risk of an injury is avoided.
This pair of scissors is manufactured with lightweight construction, stainless steel, and premium grade plastic for a safe and comfortable pet grooming. It is also durable and easy to keep clean as it is made from stainless steel. 
The Zolux Finishing Scissors with Safety Tip is the perfect way to keep your canine companion's hair clean cut no matter what. This product makes it easy to groom your pet's hair with the assurance that they won't be hurt due to the nature of the product.
PEOPLE ALSO ASK
Why are grooming scissors curved?
Curved grooming scissors are designed to follow the natural shape of the dog's body and are particularly useful for cutting around the dog's contours and sensitive areas. They allow for more precise cuts and can help to create a more natural and flowing look, especially in dogs with longer hair.
Curved scissors are often used for shaping and finishing, particularly around the face, ears, paws, and tail. They can also be used to create rounded edges and to add shape to the dog's coat.
YOU MIGHT ALSO LIKE...