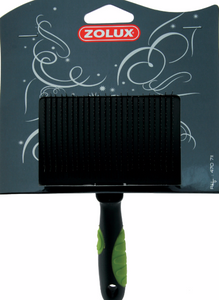 Zolux Plastic Retract Slicker
Regular price $14.55 Sale
The Zolux Plastic Retract Slicker is the perfect rubber carding brush for detangling and brushing your dog. With its soft rubber and retractable teeth, you can easily remove the loose hair from both top and undercoat.
This product is the ideal grooming tool specifically designed with stainless steel for effective removal of loose hair, mat, knots and dander easily. The special bristles retract into the brush and fur will stay on the flat surface to be removed. The Zolux Plastic Retract Slicker works on all coat types and reduces shedding while massaging your dog for increased blood circulation.
The Zolux Plastic Retract Slicker in the direction of the coat gently and cover the whole body. It is highly recommended to brush your dog from head to tail in order to keep hair away from the furniture. For best results, clean brush at regular intervals.
YOU MIGHT ALSO LIKE...