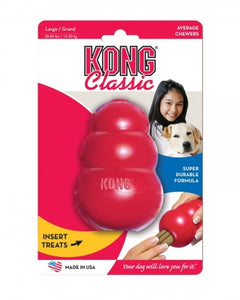 KONG Classic
The KONG Classic toy is 'The Dog Stuff's' most popular chew toy, this adaptable and almost impossible toy to break is extremely durable. Due to the nature of production, this toy has rarely ever broken or had pieces tear off whilst pets have been playing with it.
The KONG Classic toy can be stuffed with treats (insert from the bottom - follow instructions) for your pet to be occupied for hours or your canine companion can simply chew on the toy to keep themselves entertained.
The KONG Classic toy is a great way to get your dog into the game of fetch or even tough play, reinforced by the sturdy and durable material. This product comes in 5 different sizes ranging from S-XXL to cater to all dog breeds and sizes.
PEOPLE ALSO ASK
What age is Kong Classic for?
The KONG Classic dog toy is designed for adult dogs. It's made from a durable, natural rubber that's designed to withstand the chewing habits of most adult dogs. However, KONG also makes toys specifically designed for puppies (KONG Puppy) and senior dogs (KONG Senior), which are made from softer rubber to accommodate their different chewing needs. Always choose the size and hardness of the KONG toy based on your dog's age, size, and chewing habits to ensure it's safe and appropriate for them.
How do you use Kong Classic?
Stuffing: The most common way to use a KONG is to stuff it with treats or food. You can use a variety of foods, such as kibble, canned dog food, peanut butter, or yogurt. Some people even freeze the KONG after stuffing it to make the food last longer and provide a cool treat on hot days.

Playtime: The KONG Classic's unique shape makes it bounce unpredictably, which can be fun for dogs to chase during playtime.

Training: You can also use a KONG as a training tool. For example, giving your dog a stuffed KONG in their crate can help them associate the crate with positive experiences.

Chewing: The KONG Classic is also a great chew toy. Chewing can help keep your dog's teeth clean and can be a satisfying activity for many dogs.
YOU MIGHT ALSO LIKE...