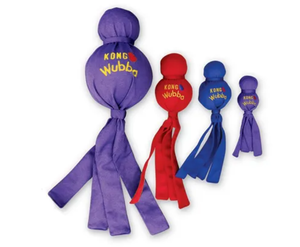 Kong Puppy Wubba
Regular price $16.49 $10.30 Sale
The KONG Puppy Wubba is a fun and interactive toss and tug toy. Durable reinforced nylon fabric covers two balls (a tennis ball on top and a squeaker ball beneath). The long tails make it easy to pick up and throw. Puppies love to squeak the KONG Puppy Wubba and shake the flapping tails back and forth.
The KONG Puppy Wubba is an excellent chew toy for teething puppies. It is specifically designed to gently clean teeth and soothes sore gums when chewed or played with. This product can be used as a fetch toy that's both safe and reliable. The KONG Puppy Wubba is a highly recommended product specifically designed for puppies up to 9 months.
PEOPLE ALSO ASK
What is inside a Kong Wubba?
The Kong Wubba is a popular dog toy, but it doesn't typically have anything inside it. The standard Kong Wubba consists of two balls covered in durable reinforced nylon fabric: one larger ball in the base and a smaller ball on top. The smaller ball often contains a squeaker. The toy also has long tails or flaps at the bottom, which are great for tugging and tossing games.
Are Kongs OK for puppies?
Yes, Kong toys are generally safe for puppies and are often recommended by veterinarians and pet professionals. They are made from durable materials that can withstand a puppy's teething and chewing.
YOU MIGHT ALSO LIKE...