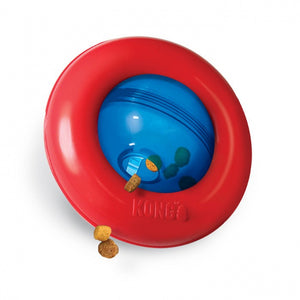 KONG Gyro Small, A Perfect Chew Toy
Regular price $21.99 $19.00 Sale
Introducing the KONG Gyro, the ultimate interactive and engaging toy for dogs. The KONG Gyro is designed to challenge and entertain your furry friend, keeping them mentally and physically stimulated for hours.
The KONG Gyro features a unique and innovative design that allows it to roll and spin in unpredictable ways, providing endless entertainment for your dog. It's made of durable, non-toxic materials that can withstand rough play and is designed to be durable for long-lasting use.
The KONG Gyro is perfect for dogs of all sizes and breeds. Its unique design can accommodate the strength and energy of large breeds and still provide the right challenge for smaller breeds. The toy is also great for interactive playtime with multiple dogs, allowing them to chase, roll and play together.
Not only is the KONG Gyro fun and entertaining, but it also helps to improve your dog's overall health and well-being. By providing regular exercise, the KONG Gyro can help to reduce the risk of obesity and other health problems associated with a sedentary lifestyle. The toy can also improve your dog's dental health by cleaning teeth and promoting healthy chewing habits.
The KONG Gyro also provides mental stimulation for your dog. The unpredictability of the toy's movement can help to improve focus, concentration and overall cognitive function, keeping your dog mentally engaged and challenged.
The KONG Gyro is also easy to use, simply fill it with your dog's favorite treat or kibble, and let them play. The treat compartment can be easily opened and closed, allowing you to adjust the level of difficulty and make the toy more challenging as your dog learns to play with it.
We stand behind the quality of our product and offer a 100% satisfaction guarantee. Order your KONG Gyro today and give your dog the gift of endless entertainment and stimulation.
With tempting roll and flip movement that keeps dogs interested and captivated, the KONG Gyro small is sure to entertain. This chew toy encourages dogs to push, paw, and irresistible roll of the GYRO while happily giving tasty treat rewards along the way. It has a static outside ring and a rotating sphere in the centre. Stuff with snacks or kibble for more fun and extended playtime. Perfect for solo play. both large and small sizes are offered.

We now present to you the KONG Gyro Small Dog Toy, just when you thought your pet could be any more playful! With its irresistible roll and flip movement, this bad boy provides some serious amusement that will have your dog mentally stimulated by jumping off the walls! Speaking of a win-win situation, don't forget about the added benefit of giving out snacks and goodies! This chew toy is ideal for those independent play periods and will keep your dog entertained and content for hours.

- Offers enjoyable roll and flip movement

- Provides tasty treat rewards and food to increase stimulation

- Excellent for independent play

- Strong construction for lifelong enjoyment

- Larger breeds or heavy chewers can fit in the size.

- Aids in keeping the dog mentally stimulated which will have physical and physiological health benefits.

The KONG Gyro Small is also easy to use, simply fill it with your dog's favorite tasty treat rewards or kibble, and let them play.

PEOPLE ALSO ASK
The KONG dog toy was named by its creator, Joe Markham, who invented it in the 1970s. The toy was named "KONG" because the shape of the original toy resembled that of a giant ape, or King Kong. The name stuck and has since become synonymous with durable, enrichment toys for dogs.
YOU MIGHT ALSO LIKE...